Pinehurst / Sandhill Area - NC
"This is the Home of American Golf...Where golf is a way of life."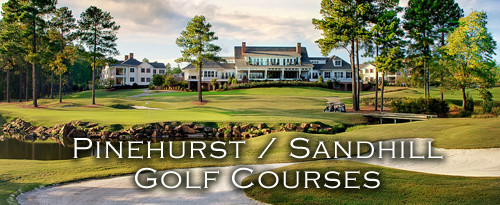 Details: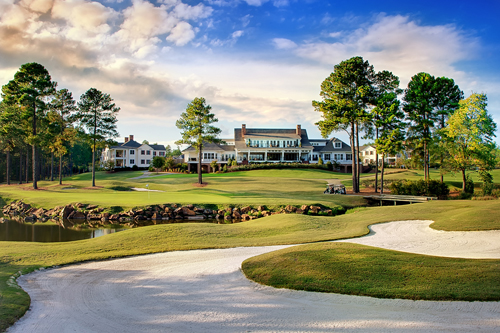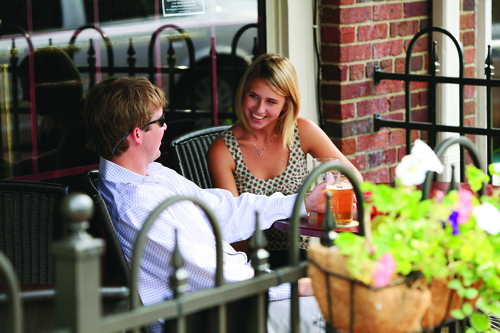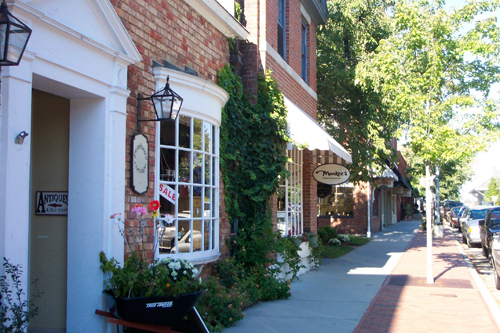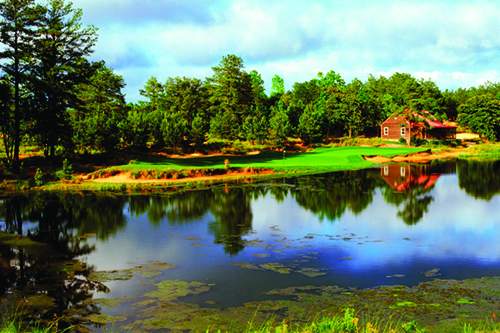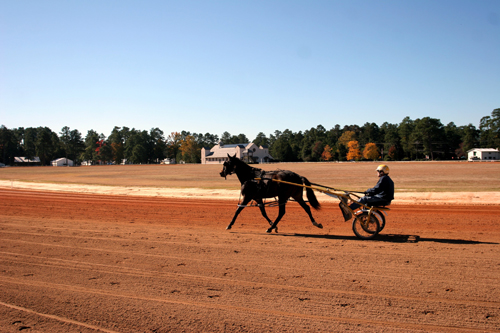 Golf Pinehurst and Sandhills area from a golfers perspective: Pinehurst North Carolina is inland in the Sandhills region of North Carolina with over 40 courses to choose from and all within about a 15 mile radius combined with mild temperates, makes this a great place for golf vacations. This area includes the towns of Aberdeen, Pinehurst, Southern Pines, Whispering Pines and other small towns. A great number of the courses here are 3 & 4 star rated and some even better along with quite a bit of U.S. golf history... Pinehurst #2 by Donald Ross a 5 star course and one of the worlds best which has hosted a record number of PGA US Open competitions. Couple this with some world class tennis and spa facilities, beautiful dining options, moderate to luxury accommodations, full service resorts, hotels, villas, B&B's and condominiums makes this a golf destination you need to explore...for you, your golf group, family vacation, meetings, corporate outings or executive retreat You can find it here.
Besides all the great golf the area has to offer, it has some of the best small town charm but with big city amenities. Enjoy the arts, parks, gardens, community festivals, history and one-of-a-kind village shops. The weather is also something to talk about, mild and beautiful most of the time which provides the possibility to play golf year round that combines to make this a very special place to visit and to play.
Area special features: According to wikipedia the Sandhills area is a strip of ancient beach dunes...over 20 million years ago this area was beach front property which makes it beautiful for golf courses. Sandy, well drained and porous soil is ideal for golf courses. This area seperates the costal plains in the East from the Piedmont and Mountains to the west. There is a pine forest ontop of the inland dunes now which leaves the air with a pleasant pinesent. In the past some people believed it was quite medicinal. Beautiful vegitation with azaleas, magnolias and dogwoods, and wild life are everywhere.
Originally the area was established in 1895 and was known as Tuftstown. James Walker Tufts a Boston entrepreneur, inventor, and philanthropist initially purchased 500 acres of land for approximately $1 per acre in the Sandhills with the vision of building a "health resort for people of modest means in an area know for its mild climate." He did succeed and then purchased an additional 5,000 or so acres which grew into the village of Pinehurst and home to the famous Pinehurst Resort. Wiki says the name was chosen from a list of losing names proposed for Martha's Vineyard a small island off the coast of Massachusetts. He commissioned Frederick Law Olmsted, designer of New York's Central Park, to lay out the village streets and Donald Ross to design the courses. What a magnificent job they did.
Golf Course suggestions for the Sandhills area:
Aberdeen: Pine Needles GC, Mid Pines GC, Legacy CG, The Pit GL.
Pinehurst: Pinehurst Resort has eight courses: #1 though #8, The National Golf Club, Pinewild CC - Holly course, Pinewild CC - Magnolia course, Mid South GC, Longleaf G&CC.
Southern Pines: The Carolina GC, Talamore GC, Southern Pines CC - Azalea Course, Southern Pines CC, Hyland GC, Pine Needles GC, Mid South GC.
Other courses in towns close by: Anderson Creek GC, Beacon Ridge GC at Seven Lakes, Seven Lakes CC, Bayonet GC at Puppy Creek, Little River GC, Foxfire GC.
Cost: The cost depends on the season. You have a variety of choices from Luxury to moderate to select from. Spring time March to June is the most expensive time. You need to plan early to get your preffered accommodations and tee times. December through February is the least expensive. Price are in the moderate range during the shoulder season periods.
Best time to Go: December through February. Temps average in the mid to low 50°F range and there are lots of good weather days. Book tee times later in the morning to avoid frost delays. For the most part courses are wide open and available and the crowds are at there lowest. This is a great time for the traveler looking for great values.
Best value: Spring and winter are the best value seasons. For some reason, maybe because kids are still in school and it is fewer family vacations, Summer is the busiest, hottest and most crowded time.
Weather Recap: Sunshine is relatively abundant with an average of 126 days per year that are clear, 117 that are partly cloudy and 122 that are cloudy. Rain falls about 120 days out of the year. The area is in a humid subtropical zone and lies along the fall line of the eastern boundry of the Piedmont...A 300 to 400 foot plalteau that stretches through the region. However, the average relative humidity does not vary greatly from season to season but is generally the highest in winter and lowest in spring and it hovers around a quite comfortable 65% range.
Further west the area is protected by the Blue Ridge Mountains and prevents the cold inland winters from reaching the region. There is no distinct wet and dry season in the area, but rainfall is fairly consistant around the year. Summer time the precipitation is normally the greatest but not by that much. July is the wettest month..again only by a few percentages points. Summer rainfall is also the most variable and occurring mostly in connection with thunderstorms. Daily showers are not uncommon as are periods without rain for a week or two. Fall is the driest season and November the driest month. Precipitation during winter and spring occurs mostly in connection with low pressure storms.
Information from the National Weather Service.
Average high and low temps:
January
50°F-31°F
February
54°F-33°F
March
63°F-40°F
April
72°F-48°F
May
79°F-57°F
June
86°F-65°F
July
89°F-69°F
August
87°F-68°F
September
82°F-62°F
October
72°F-50°F
November
62°F-42°F
December
53°F-34°F
Average Precipitation Inches:
January
4.62
February
3.62
March
4.59
April
3.19
May
4.52
June
4.24
July
5.10
August
4.39
September
4.32
October
3.76
November
3.32
December
3.30
Pinehurst / Sandhills Area, NC sun rise and set for 2011 (on the first of each month):
| | | |
| --- | --- | --- |
| Month | Rise | Set |
| January | 07:26am | 17:17pm |
| February | 07:17am | 17:46pm |
| March | 06:48am | 18:13PM |
| April | 06:05am | 18:39pm |
| May | 05:27am | 19:03pm |
| June | 05:05am | 19:27pm |
| July | 05:07am | 19:36pm |
| August | 05:27am | 19:21pm |
| September | 05:50am | 18:45pm |
| October | 06:12am | 18:02pm |
| November | 06:39am | 17:24pm |
| December | 07:08am | 17:06pm |
Note: Above times are representative of the 1st of each month and exact date data should be researched further. Info from U.S.Naval Observatory Washington, DC 20392-5420
How to get to Pinehurst / Sandhills Area NC: 74 miles from Raleigh/Durham, NC International Airport(RDU). This is the nearest commercial airport about 65 miles an is little over and hour's drive. It is serviced by many major airlines and with Their regional partners offer service from 40 destinations - Air Tran, American, Air Canada, Continental, Delta, Jet Blue, United, Us Airways and Southwest.
48 miles from the Fayetteville (NC) Regional Airport (FAY); It is serviced by three main airlines: US Airways Express, with daily service to its Charlotte, NC hub; ASA, the Delta Connection, with daily service to its Atlanta hub; and American Eagle Airlines, with daily service to Dallas/Ft. Worth.
112 miles from Charlotte, NC International Airport (CLT); Air Canada, Continental,, Continental Express, American, Delta, Jet Blue, Insel Air, Lufthasa, United Airlines, US Airways, US Airways Express.
87 miles from Greensboro, NC International Airport (GSO); Allegiant, American, Continental, Delta, United and USAirways.
By train, AMTRAK provides daily service directly to and from the area.
The closest airport is the Moore County Regional Airport, about 10 minutes from the village of Pinehurst.
Night Life Pinehurst / Sandhills Area: The area is quiet and nicely laid back but there is live music in a number of the local clubs and resorts. There are great local bars, grills and pubs to experience and enjoy. They are small, local, warm, friendly and mostly with great atmospheres. There is one gentlemen's club in Southern Pines.
Local Attractions:
Golf Courses...Lots of great courses to select from see notes above and to the right.
Rockingham Speedway affectionately known as "The Rock" has hosted two NASCAR Cup series races. It is only 34 mins / 25 miles from the Village of Pinehurst. Check their schedule for the Carolina 200, American 200, Polar Bear 150 races and others.
Broadhurst Gallery...Original art is displayed using 4,500 square feet of display area inside and outside with sculpture in the garden.
Pinehurst Harness Track...A 111-acre equestrian facility that has been a winter training center for champion trotters and pacers since 1915. The grounds consist of three training tracks.
Railhouse Brewery...A terrific craft brewery located in Aberdeen. Currently offering four craft beers: Pale Ale, Honey Wheat, Brown Ale, and Oatmeal Stout. Hmmm Hmmm Good. Check them out. They have lots of music events and tastings troughtout the summer and fall.
Cypress Bend Vineyards & Winery...50 mins / 36 miles south of the Pinehurst Village is an award winning Vineyard and Winery. In addition to the 35 acres of Muscadine vines they produce an excellent Chardoneys, Merlo and Cabernet Franc. The have Jazzy Fridays, which features live jazz every other week, and other special events throughout the year.
Better Health Massage in Southern Pines...Everyone says that they are the best in the area. They Specialize in Deep Tissue, Neuromuscular Massage and Swedish relaxation massages.
Pinehurst Resort Spas...This is the only four-star spa in the area. It was recognized by Conde Nast magazine in 2006 as one of the top 50 spas in North America. Their services include some interesting and differ therapies like the Aquatherapy Tranquility Massages. They also cater to golfers and have therapies that include; eucalyptus oil massage, foot massages as well as deep tissue, hot stone and couples massages.
The Bethesda Church and Cemetery in Aberdeen...This dates from 1790. You can still see bullet holes from the Civil War on the exterior as well as graves of pioneer settlers and an old slave gallery. Something to see.
Sandhills Horticultural Gardens is located at the Sandhills Community College. There are 25 acres that include 14 themed gardens. To name a few... Ebersol Holly Collection (largest on the East Coast), a specialized conifer garden, the Sir Walter Raleigh Garden (a 1 1/2-acre formal English garden), Hillside Garden, Azalea Garden, and the Desmond Native Wetland Trail Garden. You can see blooms trhoughout the year.
Special Forces Museum...1 hour 4 mins / 45 miles from the Village of Pinehurst and you can learn about the history and sacrifice of our bravest Americans. Life-sized exhibits and real stuff. This will make you prouder than ever to an American.
North Carolina Zoo...52 mins / 44 miles north of the Village of Pinehurst is One of the largest zoos in the United States. 1,500-acre tract of land in the Uwharrie Mountains.  Approximately 500 acres is dedicated to "natural habitats." There are no cages or cement confiments here. It is an enormous place. There are so many different wildlife exhibits, you won't want to leave.
Help in planning your trip to Pinehurst, Southern Pines, Aberdeen area of North Carolina: Any of the hotels/resorts noted to the above right can plan your Sandhill golf vacation or call or email GolfVacation.com. Click here for a free quote and details or Call Golf Vacations. 866-573-8450 -They will treat you well and give you the best service. Making it easier, faster and more fun to plan and go on your golf vacation.
Notes & Credits: Photos were provided courtesy of the Convention & Visitors Bureau of Pinehurst, Southern Pines, Aberdeen the official destination resource for these Areas - "The home of American Golf."