Featured Golf Resorts
Borrego Springs, CA - La Casa del Zorro Hotel & Spa and the Rams Hill GC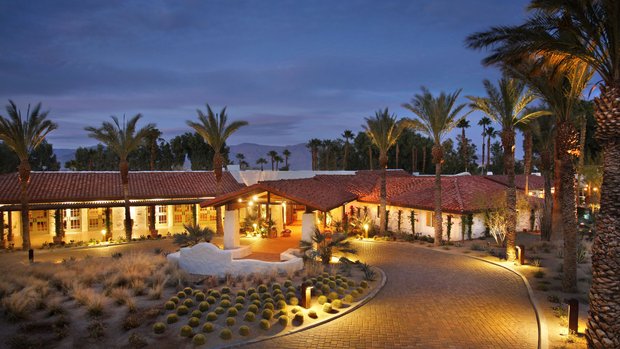 Whether you're interested in hiking, biking, jeeping, tennis or golf Borrego Springs is the place for you. The Rams Hill Golf Course has been rated the best golf course in Southern California (GreensKeeper.org) and it's only 75 miles northeast San Diego County. Unlike Palm Springs, which is congested, and often referred to as LA East, Borrego is natural, quiet and serene. It's what Palm Springs was 50 years ago. Since it's surrounded by a huge state park it will always be uncommonly beautiful and unspoiled. You come for the solitude, sunshine, stars, hiking, biking, jeeping, and, of course, some of the best golf in the world. Borrego Springs is surrounded and protected by the amazing 600,000 acre Anza - Borrego Desert State Park. The nearest stop light is 50 miles away. It is California's first Dark Sky Community - night time lighting is kept to a minimum to protect the views of the brilliant, clear and vastly beautiful night sky. It is a wonderful golf destination worth experiencing. The views from the Santa Rosa Restaurant in the Rams Hill Clubhouse are spectacular and it you want to dine outdoors, there are private hillside dining areas. Dine by your own crackling log fire (don't leave without making your own s'mores), and savor Chef Matthew's shrimp risotto, the stars like you have never seen them. You can even hook up your phone to your private sound system and enjoy the music you prefer while you enjoy Rams Hill's unrivaled wine list.
Although it is a laid back and simpler pace of life, there is a wide range of tasty restaurant choices, from fresh Mexican fast food to dining elegance, from casual "bar food" to more sophisticated continental entrees. They offer distinct environments, serving diverse menus at varied price points. There is something for every taste and budget. The slower, uncomplicated pace, the scenic beauty of the surrounding mountains combine to produce a natural, serene, authentic desert experience from hills of Borrego.
Click here for a quote or information
Rams Hill Golf Club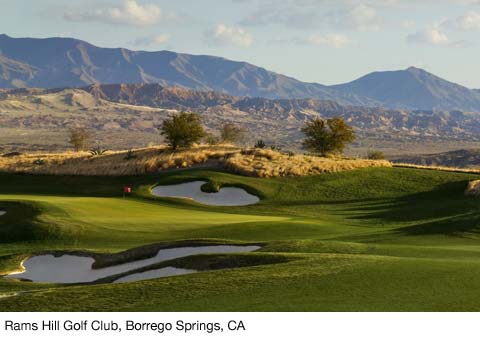 If you are looking for the perfect winter golf vacation, and the best golf package, our Golf Stay and Play Packages will enable you to play the top rated golf course in Southern California and its less than 2 hours from the San Diego Airport. Tom Fazio created an exceptional golf experience, truly a masterpiece on a remote Southern California mountain hillside overlooking the desert floor and nestled in the center of the immense Anza Borrego State Park. The natural elevation changes make each hole distinctly different: not too steep, and not too flat. Rams Hill's many lakes, streams, waterfalls and never ending mountain vistas add to Rams Hill's unrivaled sense of serenity and enjoyment. Fazio's creative genius coupled with the exceptional natural land produced a rare golfing experience. Even the non-golfer appreciates the pristine beauty of Rams Hill's lush green fairways, and the waterfalls cascading into the lakes which reflect the craggy, steep mountains that nearly encircle the course. The immaculately manicured course with the best Bent grass greens you've ever putted sits on a quiet hillside overlooking the desert floor hundreds of feet below. Almost every green has an amazing mountain backdrop.
Accommodations - This is an amazing get-away - LaCasa del Zorro Hotel and Spa - This is a very special Hotel in a very special place 10-minute drive to Rams Hill Golf Course. It's a luxury 4-star resort within the vicinity of Anza Borrego Desert State Park. With over 19 pools and 6 tennis courts, it features a furnished balcony or patio with pool or garden views, each room provides a fireplace, luxury comforter linens and free spa toiletries in the private bathroom. A flat-screen TV and a dressing area are also provided in rooms. Complimentary wired and wireless Internet access keeps you connected, and cable programming provides entertainment. Private bathrooms have designer toiletries and complimentary toiletries. Wood shutter window dressings block out the sun in all rooms. There are four wheel desert tours, life-size chess games and a croquet court, Pool Bar, hiking trails among Native American rock art sites, wildflowers and desert paths are nearby. The Plaza Shopping Center is less than 6 miles away.
Or you can enjoy the luxury of staying in a private home on the Rams Hill golf course with concierge service and mountain views.
Getting there if you don't want to drive - Helicopter service is available from San Diego and the Palm Springs area. The flight from San Diego is only about 20 minutes over some amazingly beautiful countryside.
Click here for a quote or information
The La Cantera Resort & Spa Golf Experience - San Antonio Texas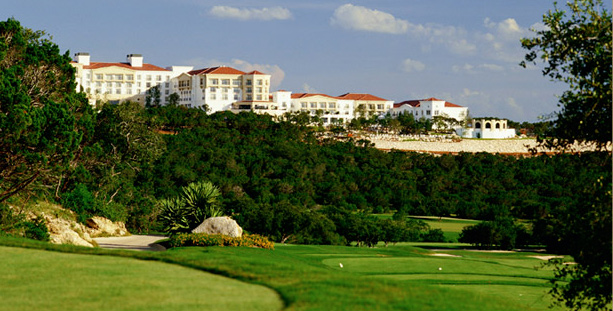 16641 La Cantera Parkway, San Antonio, TX 78256 | Phone: (210) 558-6500 | Fax: (210) 247-9641 | Info@WestinLaCantera.com
The La Cantera is atop one of the highest points in all of San Antonio. You can cast your gaze upon the breathtaking Texas Hill Country with an endless expanse of majestic Live Oak groves interrupted only by creamy white limestone outcroppings and emerald fairways. Here sits the highly decorated Westin La Cantera Resort, a distinctive retreat for business and leisure travelers alike.
It's the ultimate blend of recreation and luxury...But the star attraction is most certainly the golf: 36 holes of handicap-testing bliss, anchored by the 18-hole championship Resort Course at La Cantera, designed by noted golf course architect Jay Morrish and PGA Tour professional Tom Weiskopf. Adjacent to this stunner is The Palmer Course at La Cantera designed by the master himself, Arnold Palmer.
Other outstanding courses nearby will give you the option for a full golf around experience: Quarry Golf Club - Keith Foster, Pecan Valley Golf Club - J. Press Maxwell, Oak Hills Country Club - A.W. Tillinghast and Cypress Woods - Keith Foster and Cypress Woods Traditions Course - Keith Foster
The Westin La Cantera has: 508 rooms, 26 Villas, 3 restaurants, 2 bars, an outdoor heated pool, six pools altogether, three hot tubs, 2 golf courses and 9 nearby, 2 lit tennis courts, health club, spa, Jacuzzi, children's center- Kids Club, video arcade, concierge, business center, 24-hr. room service, massage, 20 business or event rooms with providing 39,000 square of meeting and function space.
Click here for a quote or information